About Us
The School brings together a number of institutes including the Institute of Human Sciences (IHS), home to our undergraduate programme. The Institute of Social and Cultural Anthropology (ISCA) is a leading centre for anthropological teaching and research in the UK and the world which has close links with the Pitt Rivers Museum which houses one of the world's great ethnographic collections. The Centre on Migration, Policy and Society (COMPAS) provides a strategic, integrated research approach to understanding contemporary and future migration dynamics in the UK and EU. The Institute of Cognitive and Evolutionary Anthropology (ICEA) investigates the evolution of human behaviour drawing on a diverse range of approaches, including biology, primatology, paleoanthropology, cultural evolution, and psychology. The Institute for Science, Innovation and Society (InSIS) researches and informs the key processes of social and technological innovation that are critical to business, governments and civil society in the 21st century and beyond. ICEA includes the Centre for Anthropology and Mind (CAM).
The School is renowned for its contributions to anthropological theory, its commitment to long-term ethnographic fieldwork, and its association with the Pitt Rivers Museum and the anthropology of visual and material culture. It has also become known as a centre for medical and ecological anthropology, migration studies, evolutionary anthropology, cognition and culture and science and technology studies.
Home to over 40 academic staff, 100+ doctoral students, eight master's programmes and two undergraduate degrees, the School is one of the world's largest and most vibrant centres for teaching and research in the discipline. It came top of the Power (research excellence + volume) rankings for anthropology in the UK both in RAE 2008 and in the 2014 REF. In this last assessment exercise, the department submitted 56 people, making it by some way the largest in the country, with the highest number of top-rated publications, an excellent research environment, and very strong research 'impact'. The School has achieved Athena SWAN Bronze level accreditation.
Our history
Anthropology has been taught at Oxford since E.B. Tylor began lecturing on the subject in 1883 in the Pitt Rivers Museum. A Diploma in Anthropology was inaugurated in 1905, the first such course to be offered in a British university. R.R. Marett became Reader in Social Anthropology in 1910 and in 1914 established a Department of Social Anthropology. The first Professor of Social Anthropology, A.R. Radcliffe-Brown, was appointed in 1937 and he renamed the Department as the Institute of Social Anthropology. His successors have been Sir Edward Evans-Pritchard (1946-70), Maurice Freedman (1970-75), Rodney Needham (1976-90), John Davis (1990-95), David Parkin (1996-2008), and David Gellner (2008-). In 2006 a second Chair in Social Anthropology was established, to which Harvey Whitehouse was appointed from October 2006. The Curators of the Pitt Rivers Museum have been Henry Balfour (1891-1939), T.K. Penniman (1939-63), B.E.B. Fagg (1964-75), B.A.L. Cranstone (1976-85), and Schuyler Jones (1985-97). Under Dr Jones the post was retitled Director of the Pitt Rivers Museum and the Directorship has been held by Dr Michael O'Hanlon (1998-2015) and, since 2016, by Dr Laura Van Broekhoven.
Our buildings
Apart from the Museum, the School's buildings are clustered together on both sides of Banbury Road. In addition to staff offices, these buildings contain teaching spaces, library facilities (including the Tylor Library which houses 21,000 books, some 70 current periodicals, and about 14,000 pamphlets), meeting rooms, audio-visual equipment, computing facilities, common rooms, and kitchens.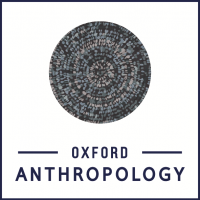 The logo of the School of Anthropology and Museum Ethnography represents a basket used for dyeing indigo fabric.