The School of Anthropology and Museum Ethnography is a dynamic and stimulating department, the largest and arguably the most diverse in the UK, with an ethos of openness and tolerance at its heart.  Its mission is to be a world leader in all forms of anthropological research and to train the next generations of anthropologists, whether working in the academy or outside it, through research-driven teaching programmes that produce future leaders in their fields. The School produces internationally recognised research and delivers teaching on a wide range of intellectually challenging and socially pressing issues. Currently standing at number 1 in the 2023 QS World University Subject Rankings for Anthropology, and twice in a row having topped the power ranking for anthropology and development studies in the UK government's Research Excellence Framework exercise, the School prides itself on its interdisciplinary and wide-ranging approaches to solving real world problems that contribute to the promotion of intercultural understanding and tolerance. The School has achieved Athena SWAN Bronze level accreditation.
Our history
Anthropology has been taught at Oxford since E.B. Tylor began lecturing on the subject in 1883 in the Pitt Rivers Museum. A Diploma in Anthropology was inaugurated in 1905, the first such course to be offered in a British university. R.R. Marett became Reader in Social Anthropology in 1910 and in 1914 established a Department of Social Anthropology. The first Professor of Social Anthropology, A.R. Radcliffe-Brown, was appointed in 1937 and he renamed the Department as the Institute of Social Anthropology. His successors have been Sir Edward Evans-Pritchard (1946-70), Maurice Freedman (1970-75), Rodney Needham (1976-90), John Davis (1990-95), David Parkin (1996-2008), and David Gellner (2008-). In 2006 a second Chair in Social Anthropology was established, to which Harvey Whitehouse was appointed from October 2006. The Curators of the Pitt Rivers Museum have been Henry Balfour (1891-1939), T.K. Penniman (1939-63), B.E.B. Fagg (1964-75), B.A.L. Cranstone (1976-85), and Schuyler Jones (1985-97). Under Dr Jones the post was retitled Director of the Pitt Rivers Museum and the Directorship has been held by Dr Michael O'Hanlon (1998-2015) and, since 2016, by Dr Laura Van Broekhoven.
Our buildings
Apart from the Museum, the School's buildings are clustered together on both sides of Banbury Road. In addition to staff offices, these buildings contain teaching spaces, meeting rooms, audio-visual equipment, computing facilities, common rooms, and kitchens.
The School brings together a number of research institutes including the Institute of Human Sciences (IHS), home to our undergraduate students taking the BA in Human Sciences. The Institute of Social and Cultural Anthropology (ISCA) has a long tradition of comparative, empirically grounded research, and contributions to anthropological theory, across a wide range of thematic and regional settings. It has close links with the Pitt Rivers Museum which houses one of the world's great ethnographic collections. The Centre on Migration, Policy and Society (COMPAS) conducts high-quality research in order to develop theory and knowledge, inform policy-making and public debate, and engage users of research within the field of migration. It contributes research-led teaching to the highly esteemed MSc in Migration Studies. The Centre for the Study of Social Cohesion (CSSC) conducts research on the causes and consequences of social cohesion – the bonds that hold groups together, from families and gangs to nations and world religions. Based on this research, the CSSC generates science driven policy recommendations and practical interventions to address a range of issues, from violent extremism to football hooliganism. The Institute for Science, Innovation and Society (InSIS) researches and informs the key contemporary and emerging issues and processes of social, scientific, and technological change. InSIS combines the highest standards of scholarship and relevance to pursue and disseminate timely research in the UK and worldwide.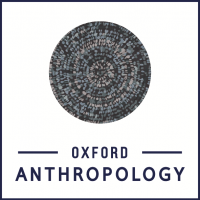 The logo of the School of Anthropology and Museum Ethnography represents a basket used for dyeing indigo fabric.